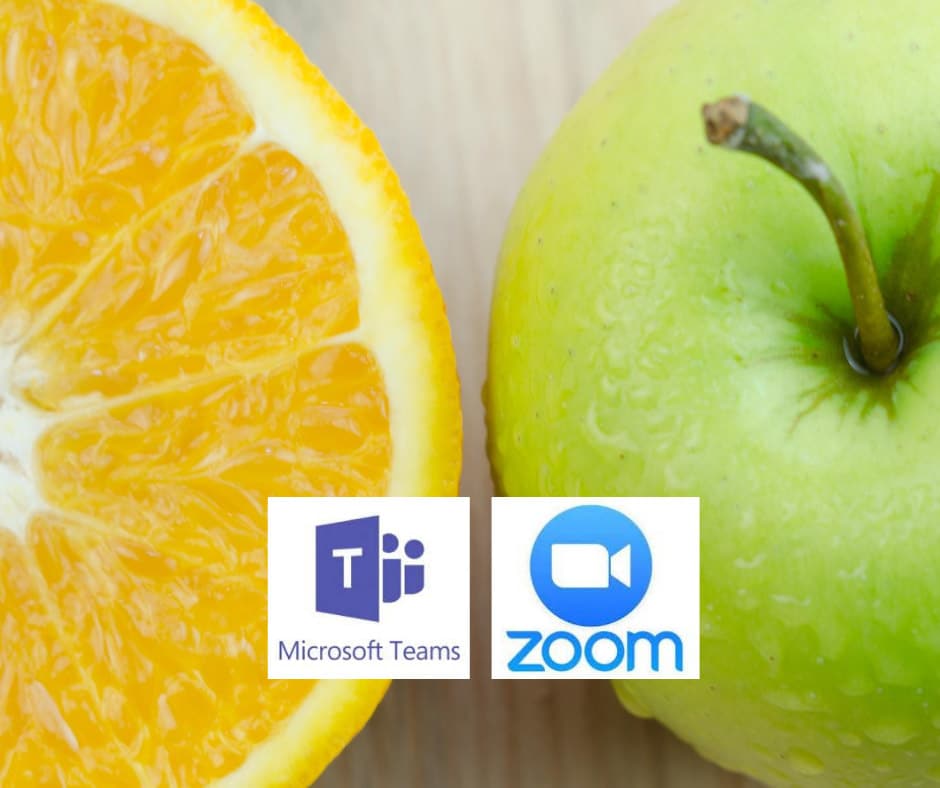 08 Sep

Teams or Zoom…it's apples and oranges

The global COVID-19 pandemic launched us all into working remotely.

Many of us are still in this situation and regularly detached from our co-workers. Businesses had to scramble to find solutions – fast! We needed our staff and associates to not only work remotely, but to continue to communicate effectively and efficiently in lieu of face-to-face meetings and presentations. Enter Zoom, Microsoft Teams or Google Hang-outs.

In this article we'll focusing on the two key apps in this space, Teams and Zoom.

Late march 2020, Microsoft announced their Teams product would be available, free for a limited time. The approach targeted the immediate need for voice and video conferencing over public internet connections. However, this under emphasised the products true collaborative qualities.

As many businesses now resuming centralised COVID safe workplaces, business leaders have realised that you CAN have an efficient and productive remote workforce. The cost savings that can be realised from reduced real estate alone cannot be ignored. So which businesses are going to survive, and which ones are going to thrive?

Everyone will agree that communication is key. Both Teams and Zoom do a great job of that, but where Teams goes that Zoom doesn't is the ability to have a conversation around anything and everything you're working with on a daily basis, not just scheduling video calls like you might with Zoom. Teams simply integrates with all your apps and data that you are already working with.

Key Benefits of Microsoft teams:
Chat from anywhere – Share your opinion, and your personality. Send gifs, stickers, and emojis in a group chat or in one-to-one messages.
Meet from anywhere – Instantly go from group chat to video conference with the touch of a button. Teams of 10 or 10,000 can meet in one place, no matter how many places they're in.
Call from anywhere – use Teams calling, Phone System, or Direct Routing to take the uncertainty and unreliability out of conference calls.
Collaborate from anywhere – In Teams you can access, share, and edit Word docs, PowerPoint, and Excel files in real time.
Persistent Chat – get your teams working and conversing out loud, discussion points, dialog and processes become indexed and searchable retaining valuable company IP.
Couple this with:
Open and unified communications and collaboration
Integrates seamlessly with Microsoft Office 365 and Microsoft 365 Apps
Secure by design with the might of Microsoft's existing secure cloud
Teams was built for a modern diverse workforce, one that we're all too familiar with in COVID times. If you combined Zoom with Slack, two independent unique web apps, you'd have something that is comparable to Teams.
For Microsoft 365 clients, Teams is the natural choice for unified communications and collaboration. If you're not already benefiting and enjoying this service, please reach out to us at Synergise IT for more information pulse@synergiseit.com.au